When we started creating an outdoor space on our new deck, all we could find was sticky vinyl and ugly floral plastic fabric. Then we discovered 'performance fabrics' - they felt like an indoor fabric but performed like an outdoor fabric. We couldn't believe how hard they were to get in Australia - and yet our climate is perfect for these versatile fabrics. So we decided to start Fab Outdoor Fabrics to showcase the great range of unique quality outdoor fabrics that are weather resistant, stain resistant and fade resistant.
Twelve years on and thousands of design-savvy people have discovered how fab our outdoor fabrics are. From inner city penthouses to outback verandas, our range of fabrics is helping to create innovative outdoor spaces that are both stylish and practical. Thank you to all the wonderful clients who've shared their part of Australia with us.
Jim & Anita Vasey
p.s. Below is the deck that started it all back in 2007.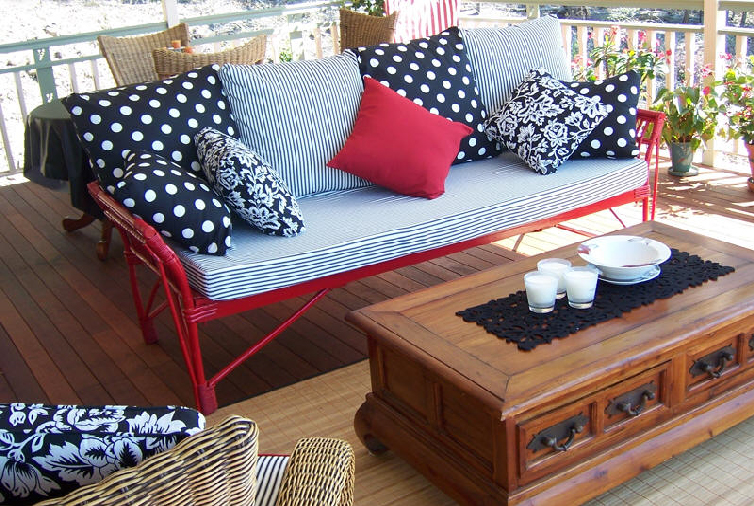 Below: Eight years on, there's been a fair few parties, many tropical Queensland storms and a lot of lovely sunsets, but it's still looking just as good.

The "Bondi" collection by Warwick is a standout for quality and value. The range includes sharp colours and crisp designs that work indoors or outdoors. We offer all Warwick outdoor fabrics at the best prices in Australia. Use this link to see the entire range: Fab Warwick
Fab Hamptons Style

Created by Natalee Bowen from Indah Island, this gorgeous outdoor area features Bay Blue and Portofino Tile Blue cushions. The outdoor area below is also Natalee's work and features Tommy Bahama Island Tropic Map on the seat and Tommy Bahama Orchids Coconut on the scatter covers (picture from Home Beautiful). For more Hampton's style and inspiration: http://indahisland.com/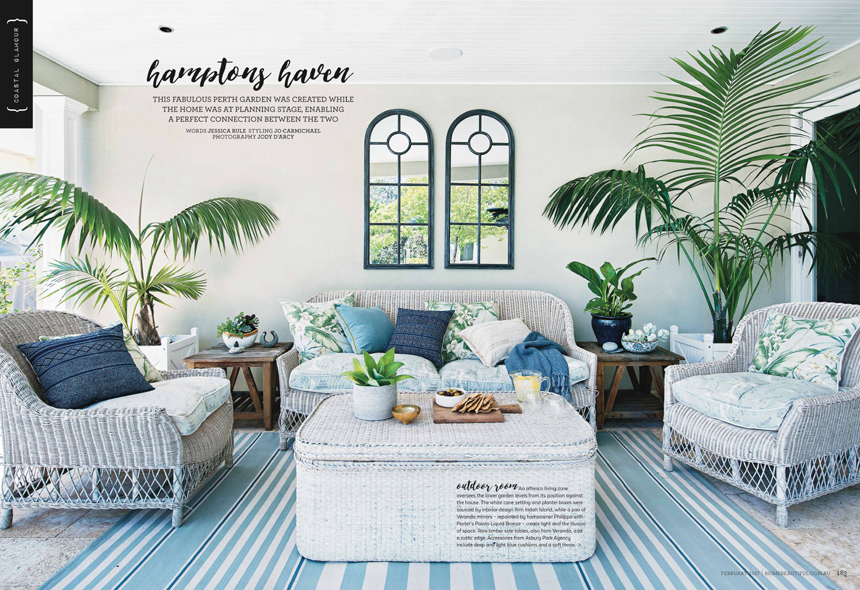 Fab Outdoor Fabrics has featured on The Block three times and each time the outdoor area has won! Now, that's totally fab.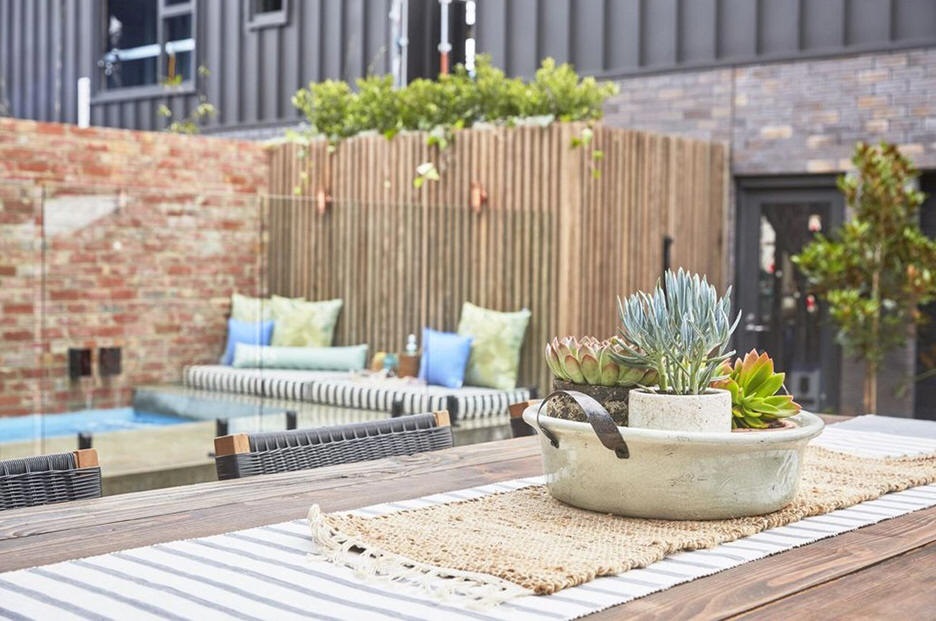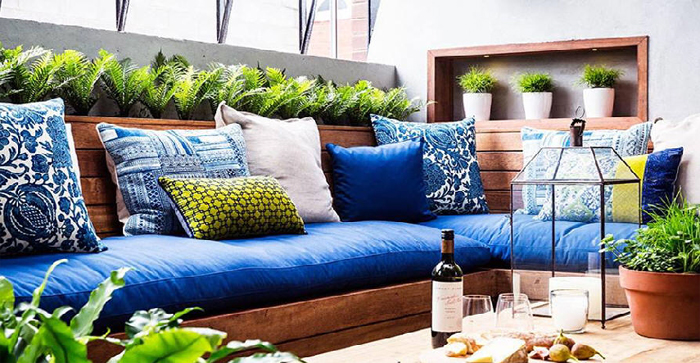 Above, another win for Fab Outdoor Fabrics on The Block. The 2015 design by Dee and Darren, again got a perfect score from the judges. Fabrics include Bay Blue and Tree of Life Batik (now discontinued in this colourway, but still available in

lapis

)
| | |
| --- | --- |
| | This Melbourne penthouse deck was created by award- winning landscape designer, Paal Grant. FOF worked closely with Paal to create this look. We added a burst of colour using Marine Premium Red for the large sofa. The scatter cushion covers feature an innovative mix of artificial turf and selected fabrics from our Ash range. |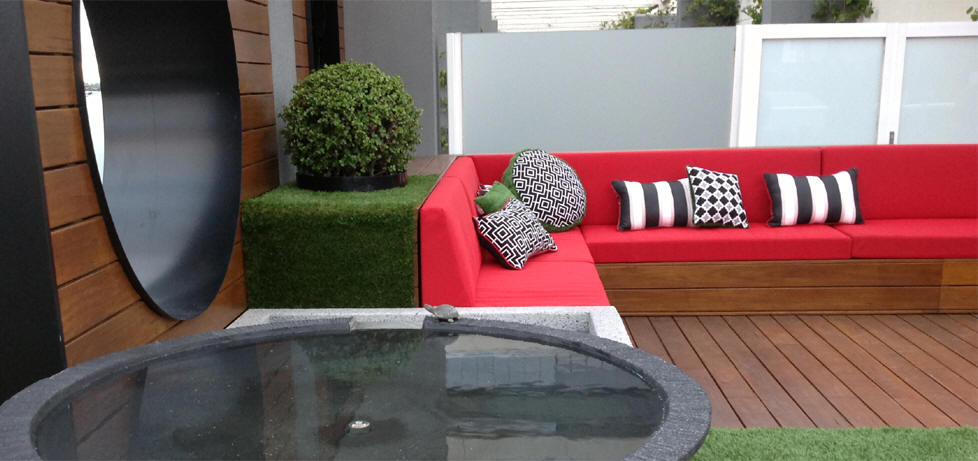 Fab Media
Yes, we are total media tarts! Here's some of our favourite images from recent media. Any editors or stylists, please get in contact here.

Above: Better Homes and Gardens magazine(November 2017) feature Indian Blue seat covers and scatter covers in Sunset Coral and Pondscape.
Below: Better Homes and Gardens magazine featuring Indian Blue and Wings of Night. And far below: We made the cover! Other fabrics used include Orange and Aruba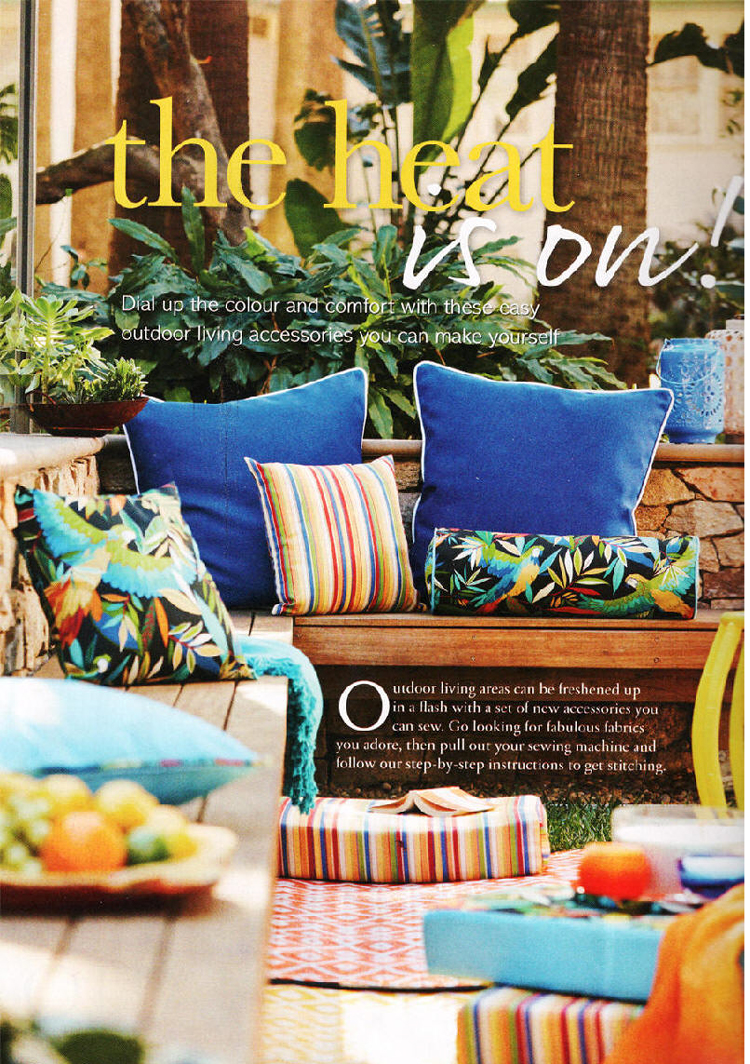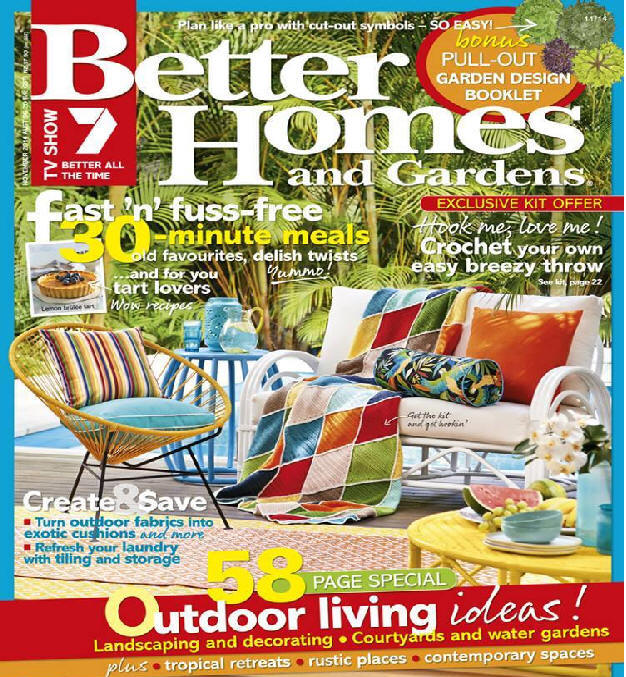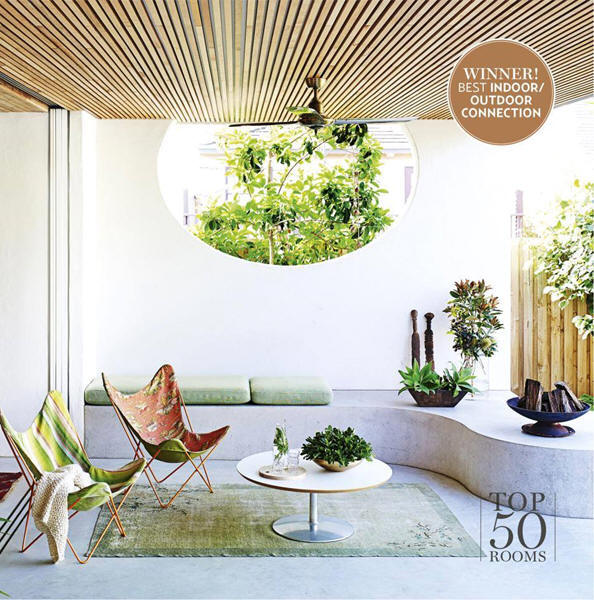 Above, our fabrics featured in Australian House & Garden magazine's winning indoor/outdoor space. Fabrics featured on the butterfly chairs are from our Tommy Bahama collection including: Paradise Stripe, Village Spice, Breeze Mojito and Clover.
Below, Australian House & Garden magazine feature styled by Janet James. Santa Fe Flores Lime features as the backdrop (isn't that a clever way to add impact?), with cushions from our Coolum range.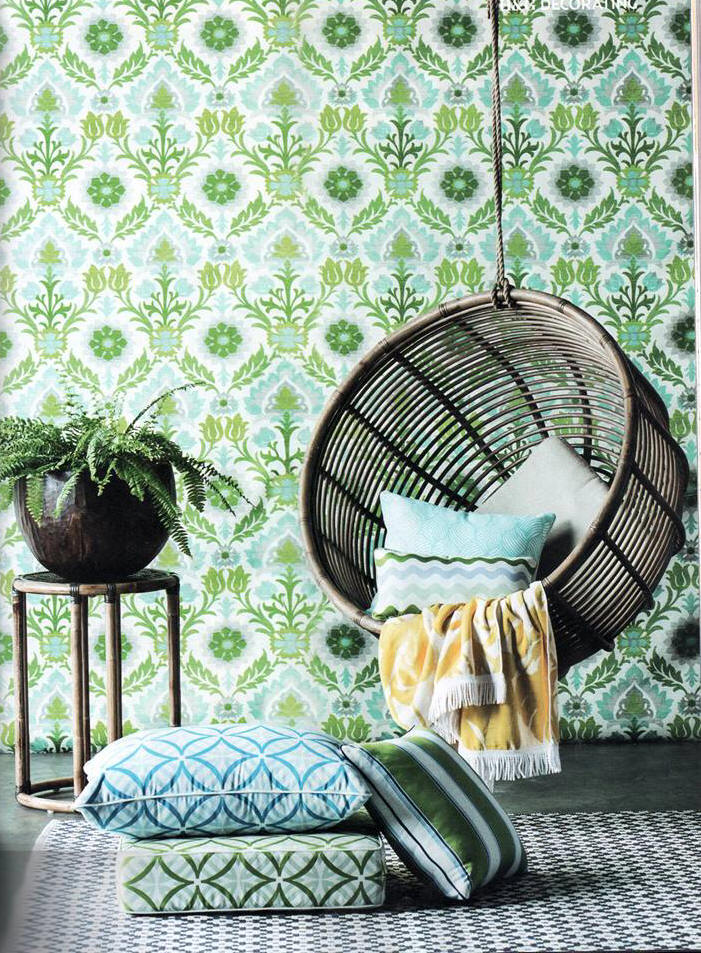 Below: Bed cushions in Tommy Bahama Orchids Coconut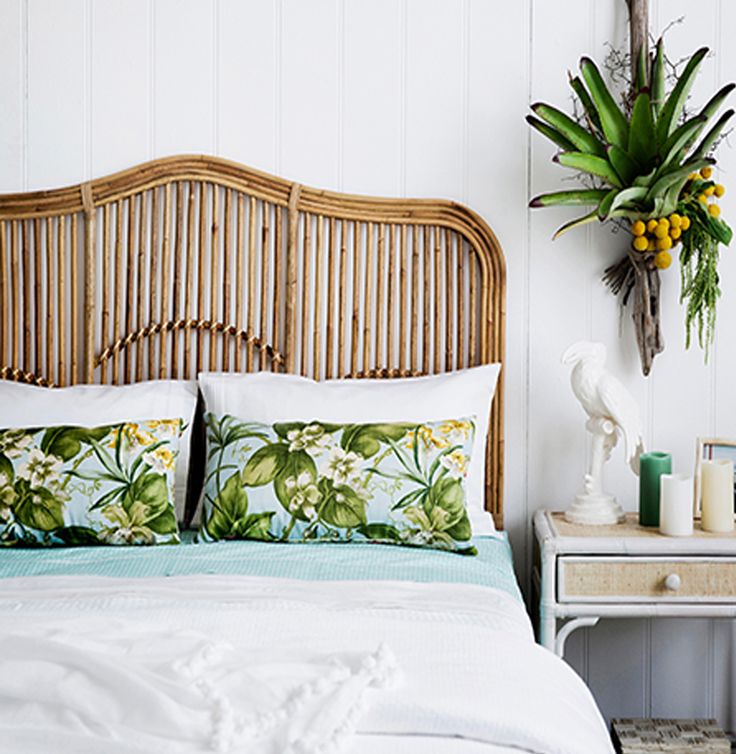 Fab Commercial
| | |
| --- | --- |
| | We love working with the amazing team at Decorative Events to create stylish indoor and outdoor spaces. Here the talented designers added a whole new level of chic to the cafe at the Andrew Boy Charlton Pool The vibe is relaxed but stylish thanks to the clever combination of black and summer colours. Fabrics include: Casablanca Night, Canopy Apple Zig Zag, Deck Stripe Black and Moma Geo Grass. |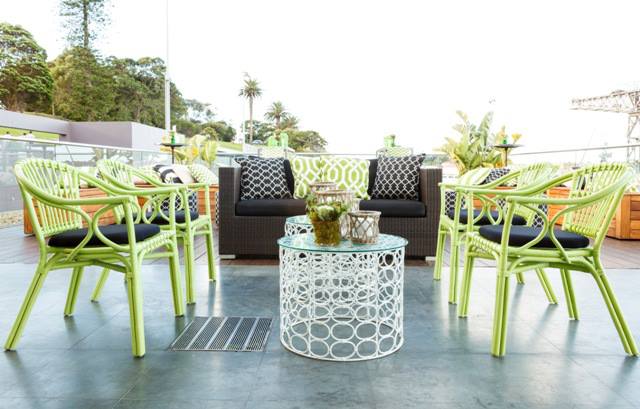 Below, inspiration from The Vintage Hire Company in Cairns.

Our outdoor fabrics are so great, you can use them indoors. They're even soft enough for a baby's crib. And they make great curtains because you get the advantage of the water, stain and fade resistance. Fade resistant curtains - now that's common sense.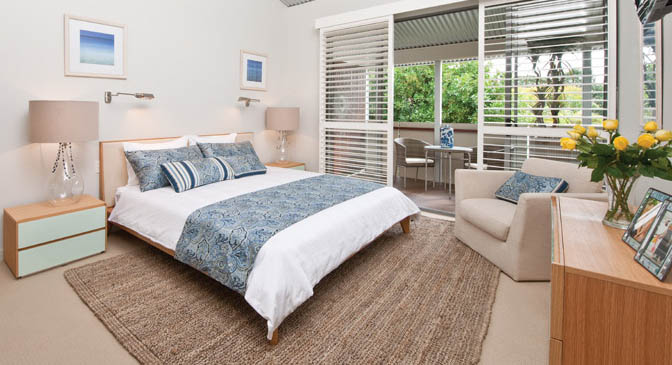 Above Left and Right: Curtains in Tommy Bahama Sway Jungle, Above Right: Crib with scatter covers in Coral Sunset and Bon Reef.
Below: Tablecloths, placemats and runners from our Sunbrella range.

Sadly these fabrics are discontinued, but these were some of our very first media articles and we can't bear to delete them.
We're in love with this Fab setting, styled by Sandy de Beyer for Your Garden magazine.

When Sandy first selected Carnations Cream and Antique Beige to go with a taupe stripe, we were wondering how it would turn out. But the result is stunning!

By teaming a classic floral with up-to-date neutrals, Sandy has created a look that's classy and contemporary. It's a clever way to soften dark wicker chairs, which can look too stark, while keeping the colour palette relaxed.

Photos copyright Sandy de Beyer 2011

(Left) Another Fab photo by Sandy de Beyer for Your Garden magazine.



W

e custom made cushions in Bek Onyx with Kiwi piping. The casual style was designed to complement Woodbury House Furniture's wicker chairs - if you're in Sydney, pop into their store at Castle Hill.



Photo copyright Sandy de Beyer 2012

Here's another inspirational setting from Sandy de Beyer for Burke's Backyard magazine. With timeless Adirondack chairs as the focal point, Sandy's added a modern twist using African Journey Water as a stunning piece of wall art and on the scatter cushions. Throw in some plain French Navy cushions, blue glass accessories, a serene grey wall colour - and voila - a calm oasis of style.
"Bright and Beautiful - Take the inside out and transform your garden into a stylish retreat with vibrant colour."

Stylist, Lynsey Fryers-Hedrick created these great spaces for the April 2013 edition of Home Beautiful.

Featured fabrics include:
The centrepiece of this gorgeous tropical setting in Home Beautiful is totally Fab! Our custom sewing team made the cover featuring Hamptons Platinum Shimmer with Oyster piping.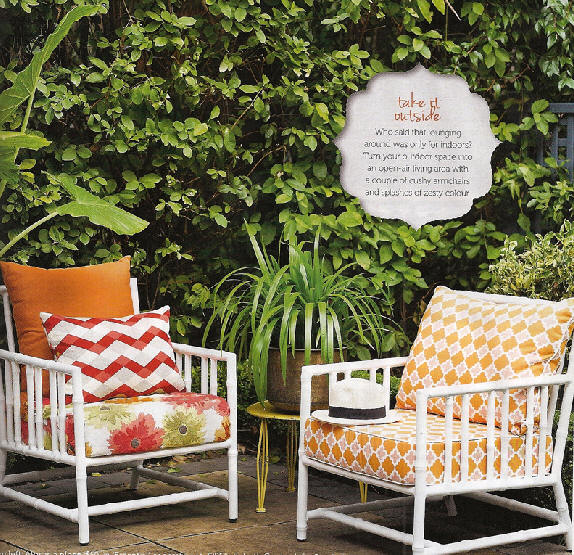 More Home Beautiful fabulousity. Above - stylist Stephanie Powell used Bells Beach Calippo (right) and our cushion in Orange (left). Below - Bells Beach Ocean cushion and Wild Curves Aqua on the daybed.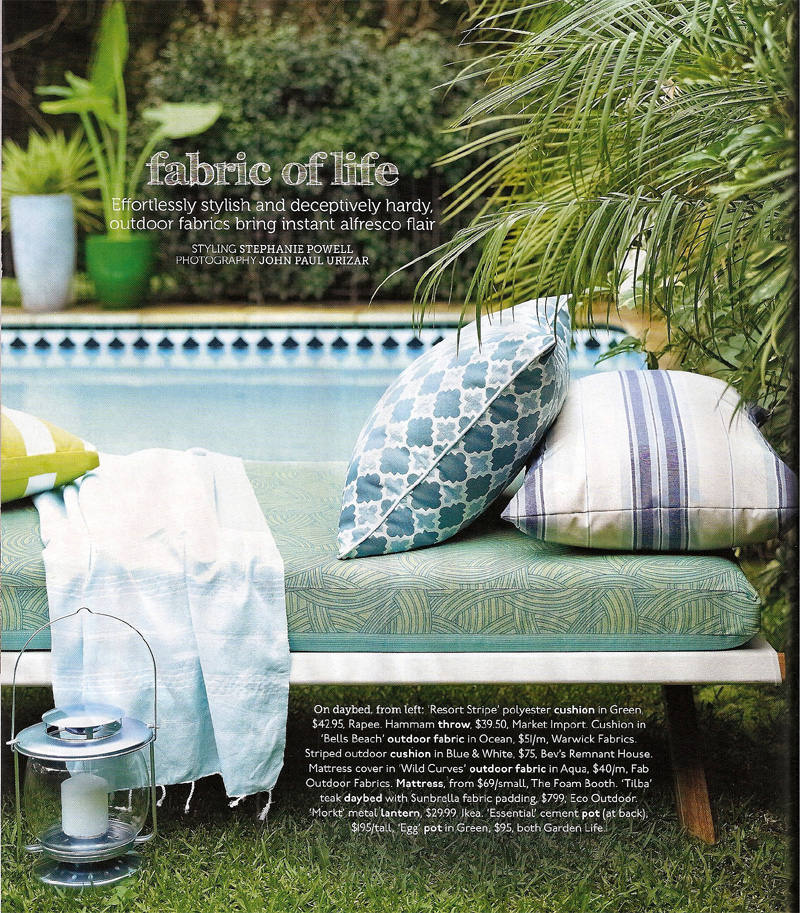 We're very excited to be a part of Paal Grant's gold medal winning garden at the Melbourne International Flower and Garden Show.

Paul created a landscape of curves, highlighted by this gorgeous conversation nook. Tribal Breeze and Linen Pine beautifully compliment the superb design of the garden.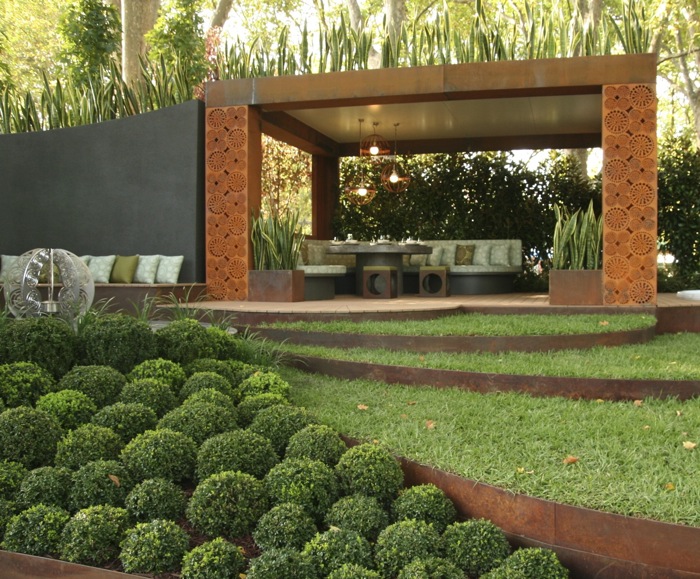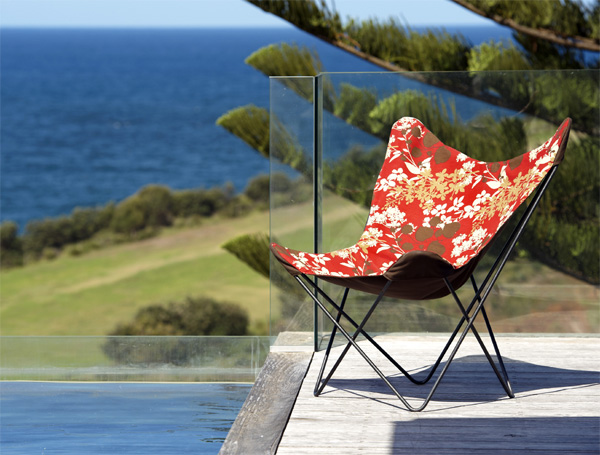 We are really excited to be working with Cathy Cooke, the creative brains behind Hide You Seek. Her designer butterfly chairs, complete with Fab Outdoor Fabrics, are currently appearing in all the best outlets. Cathy can set your old butterfly chair free with a new Fab cover or you can purchase one of her groovy new stainless steel or painted iron frames. The chair above features Sangria Monitfleur with Chocolate on the reverse.