"Outdoor Fabrics That Perform!"
Our outdoor fabrics aren't just coated with protection, it's woven into every fibre. They're referred to as "performance fabrics" because they can be used anywhere - including outdoors.

Fabrics with Super Powers! - they're water resistant, stain resistant and fade resistant. They also have anti-microbial properties so they resist mould and mildew.

When you first feel our outdoor fabrics, it's hard to believe they're so hardy. But believe it.

We think these are the best fabrics in the world and we hope you will too!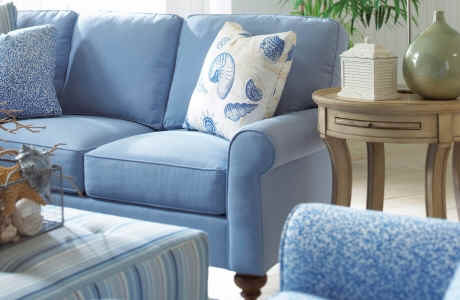 Care Instructions - When we send your outdoor fabric, you will receive a full set of care instructions. As a general guide only, prints need to be dry cleaned and solution-dyed acrylics can be washed in a machine. You can tell if your fabric is a solution-dyed acrylic, because it will be fully reversible.

Handy tips -

You will find that dust and dirt sit on top of outdoor fabric, rather than settling in so a good vacuum or shake is often all that's needed to keep them looking great. A wipeover with a damp cloth will also revitalise it.

If your outdoor fabric is a solution-dyed acrylic, you can wash it on a gentle cycle in cold water. Always dry flat orlLine dry using fabric wads under the pegs.

Do not use a dryer or hot iron for any of our fabrics. Keep in mind that our fabrics are acrylic so heat can shrink them.

Make sure you sew our outdoor fabrics with an acrylic or polyester thread. Cotton breaks down quickly outdoors. You should also look for plastic zips as metal zips can rust and freeze up.

Pool chlorine or salt acts as bleach, and it could seriously damage your outdoor fabric over time. Constantly sitting on cushions with wet bathers or leaving wet towels in direct contact with outdoor fabric is not recommended. This is particularly important with printed outdoor fabrics.

Selecting the Right Outdoor Fabric - We stock three main types of outdoor fabrics:

1. Outdoor Fabric Prints - most of our florals and geometric patterns are prints. These are generally a polyester, which is designed to dry very quickly, so they are great for mould resistance.

Prints are perfect for light domestic situations under cover outdoors eg: scatter covers. They are water-resistant, but not fully waterproof, so they are not designed to get wet all the time. Most outdoor fabric prints will give you fade resistance for 500 hours of direct sunlight. The manufacturer's care recommendation for prints is generally "dry cleaning recommended". However, if kept undercover, and given a shake or vacuum every so often, you will find they only need cleaning every few years.

2. Solution-dyed acrylics - most of our stripes and solids are 100% solution dyed acrylic. This means the fabric is woven from strands of dyed acrylic. Solution-dyed acrylics tend to be thicker than prints, so are recommended for seating upholstery.

The advantage of solution-dyed acrylics is their excellent fade resistance and toughness, while still retaining the "softness" of a regular fabric. They are strong enough to stand up to some chlorine exposure. Again, they are water resistant but not fully waterproof.

You can wash solution-dyed acrylics in a washing machine, using a gentle cycle and cold water. Dry flat and do not iron.

Use this link to see our range of solution-dyed acrylics: Sunbrella

3. Marine outdoor fabrics - these only come in solid colours and are solution-dyed acrylics with a backing that makes them fully waterproof. They can be hosed down or cleaned with a gentle detergent (do not abrade the surface of the fabric).

Marine fabrics feel more like a canvas, but they are still comfortable for cushioning. Not all home sewing machines will be able to cope with the toughness of our marine fabrics.

Use this link to see our range of marine fabrics: Marine
Samples - It's always best to get a sample to make absolutely sure your fabric choice will be perfect. We keep stock of all our fabrics so you should have your sample or swatch within three business days.

Our sample size is usually a generous 16cm x 22cm and the one low price of $5.00 includes postage and handling. However, if you're interested in a stripe which has a wide repeat, then we will supply a 10cm x 40cm sample to make sure you get the full picture. Our swatches are perfect for matching colours and are about 6cm x 10cm. Again, the price of $2.50 includes postage and handling.

If you receive your samples or swatches and you still can't make a decision, give us a call (on the number at the top of the order form you receive) and we will help you to make the right decision.

How to Order Samples -To see our fabrics, start by clicking on the categories to the left of the home page ie "Fab Solids". Or use this link to see all the fabrics at once - SHOW ME ALL THE FABRICS

Once you see all the small pictures of the fabrics, click on any of the images. You'll see a larger picture and an order form.

To move around the site, just click your "back" button to go back to the small pictures. Or down the bottom of every fabric page, you'll find some suggested coordinates that you can click on.


Fabric Width - Almost all of our fabrics are 137cm or 54 inches wide.
The handful of fabrics that differ have their width detailed on the description page. All of the stripes run horizontal to the selvage (in other words, down the length of the fabric), apart from a few exceptions which are noted on the description page.

Shipping Costs - Only $10.00 for as much fabric as you need to anywhere in Australia! Doesn't that make it easy? There is no charge for shipping on samples or swatches.

Yes, we will ship overseas. Please contact us to find out about our reasonable shipping costs.

Delivery Timeframe - We keep stock of around 500 of our most popular outdoor fabrics in Australia. About 95% of our orders ship the next business day. Please use the Contact page to enquire about Express Post options.
To keep up-to-date with the latest decor fashions, we may not have stock of some patterns or recent editions to our range. If we don't have your fabric in stock, delivery can take 10-15 working days.

Returns Policy - If we make a mistake, we will fix it at our cost.

Once cut, fabric is difficult to resell so please choose carefully. It's important to purchase a swatch or sample as colours can vary between monitors.

For more information on your rights under Australian consumer law, please see this link:

FAIR TRADING GUIDE TO REFUNDS AND RETURNS
Sewing our Fabric - You will love sewing with our outdoor fabrics* because they're just slighter stiffer than normal fabrics and they glide under the needle with ease. You don't need a special needle but we do recommend that you use high quality acrylic thread that will weather just as well as the fabric.

*Our marine range is much tougher than regular fabrics and we don't recommend sewing it with domestic machines.

Can't sew? We've got you covered. Check out our Custom Make page - our very creative sewing team can make just about anything. Outdoor tablecloths, table runners, outdoor hangings, outdoor cushions, chair covers - if you can think it up, we can whip it up.